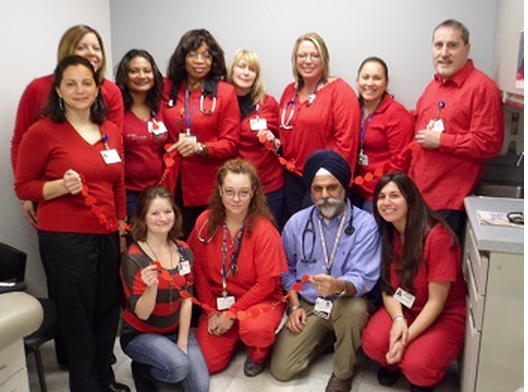 FOR IMMEDIATE RELEASE
For more information, contact: Mark Trocino | 845.615.6832 |
mailto:marketing@crystalrunhealthcare.com
Middletown, N.Y. – February 12, 2013 – Crystal Run Healthcare, led by its Cardiology division, hosted a fund raiser to help support the American Heart Association's National Wear Red Day. On Friday, February 1st, the providers and staff at Crystal Run Healthcare's 15 locations personally donated money and wore red to help raise funds and awareness about heart disease and its effects on women. Employees purchased red dress pins to wear along with their red clothing as well as paper hearts to show their support. In total, $2,460 was raised by Crystal Run Healthcare and donated to the American Heart Association.
Crystal Run Healthcare has long been committed to heart health for its patients as well as the communities they serve. In addition to National Wear Red Day, the physicians of Crystal Run Healthcare also organize monthly walks called "Walk With A Doc" that encourage heart health.
According to the American Heart Association, heart disease is still the leading cause of death in women and is responsible for 1 in 3 deaths each year. On the first Friday in February each year, millions of women and men come together to wear red, take action and commit to fighting this deadly disease. Funds raised by Go Red for Women support educational programs that increase women's understanding about their risk for heart disease and support research to discover scientific knowledge about heart health.
"Raising awareness about heart disease for women is very important and is why I am very happy to have coordinated our efforts as a practice for National Wear Red Day. This was a great way for us to bring attention to this cause and help raise money for education and the fight against heart disease," said Sandeep Singh, MD, FACC, Cardiologist and National Wear Red Day Coordinator for Crystal Run Healthcare.
--- Cutline: Crystal Run Healthcare Cardiology hosted "Go Red For Women", from standing from left to right: Jean Marie Guido, RN; Jacqueline Ericson, MA; Deborah Jainarain, RN; Sherma Winchester-Penny, MD; Karen Toffler, RN; Trisha Fuller, LPN; Noemi Ayala, MA, Ken Leeper, Patient Services. Kneeling from left to right: Amy Wood, Patient Services; Tracy Koar-Horton, RN; Sandeep Singh, MD; Rachel Reina, RN.
About Crystal Run Healthcare:
Crystal Run Healthcare is a premier multi-specialty group practice, and is among the fastest growing medical practices in the country. Crystal Run Healthcare includes over 300 providers, in over 40 medical specialties with 15 practice locations focusing on the healthcare needs of the mid-Hudson Valley and lower Catskill region. Crystal Run has a strong commitment to primary care, employing an outstanding group of physicians representing the specialties of Internal Medicine, Obstetrics/Gynecology, Family Practice, Geriatrics and Pediatrics. The practice also includes unsurpassed sub-specialists in a wide variety of medical and surgical specialties and sub-specialties. Crystal Run Healthcare offers fully accredited digital radiology and laboratory services and is a national leader in the use and advancement of electronic health records (EHR). Crystal Run Healthcare is accredited by The Joint Commission and is designated by the NCQA as a Level 3 Patient Centered-Medical Home. The practice was among the first 27 health care organizations in the nation to participate as an Accountable Care Organization (ACO) in the Medicare Shared Savings Program (MSSP) effective April 2012. NCQA recognition of Crystal Run as an Early Adopter seeking ACO Accreditation in January 2012 culminated in December 2012 with Crystal Run Healthcare achieving NCQA Level 2 ACO Accreditation. For more information about Crystal Run Healthcare visit our website at
www.crystalrunhealthcare.com
or call 845.615.6832.