You are here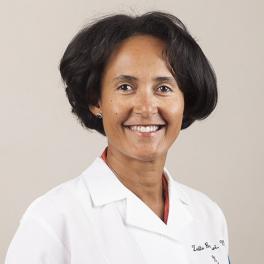 Zewditu Bekele-Arcuri MD
Specialties: Neurology
Board Certified: Neurology
Languages: English, French, Amharic
Overall Rating of Provider
---
General Info
Medical School/Degree: MD, UMDNJ- Robert Wood Johnson Medical School, Piscataway, New Jersey
Hospital Affiliations: St. Anthony Community Hospital, Montefiore St. Luke's Cornwall
Residency: Neurology, University of Pittsburgh School of Medicine, Pittsburgh, PA
Internship: Internal Medicine, University of Pittsburgh, School of Medicine, Pittsburgh, PA
Undergraduate: SUNY at Stony Brook, NY
Clinical Interests:
Epilepsy, Neuromuscular diseases, Multiple Sclerosis, Stroke and Migraine
Year Joined: 2007
---
About Me
What made you want to become a health care provider or what is your earliest memory of wanting to be one?
Meeting a very patient, kind, caring neurologist at the age of 9 made me want to become a doctor.
What do you love most about your specialty? / Why did you choose your specialty?
I have special interest in epilepsy. I love taking care of patients with epilepsy because I feel that most often you can change someone's life with helping them control their seizures. It is not always easy; but when it happens and I see one of my patients lead their life to their fullest, it is very fulfilling.
How do you connect with your patients?
1. I try to listen. Sometimes the reason why a patient is in the office is not the real reason they are there for. 2. I try to find words that are easy to understand when explaining medical terms. 3.I try to find a common ground; whether it is asking about family, pets or gardening.
What are your interests outside of the office (hobbies, activities)?
1. Spending time with my family, my 2 dogs and my cat 2. Gardening (vegetables or flowers) 3. LOVE to cook/bake but only if I can feed people. Best time is when I am cooking in my kitchen with the background sound of family/friends talking and laughing.
What is your advice for your patients?
1. Be healthy. No matter what my patients comes for, I try to discuss healthier lifestyles if I see the need (weight loss, smoking cessation, exercise). I really stress smoking cessation discussions and find that even the most resistant person eventually tries to quit smoking. 2. Medication compliance 3. Communication with their physician if they choose not to take their medications 4. To clearly understand themselves and explain to family their medical problems 5. To try and bring family members when coming to office visit; especially with very young or older patients.
---