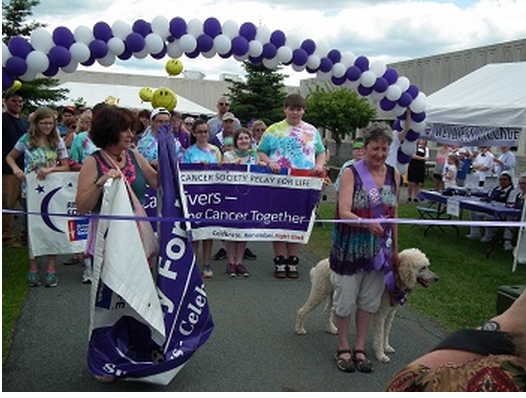 FOR IMMEDIATE RELEASE
For more information, contact: Mark Trocino | 845.615.6832 | mailto:marketing@crystalrunhealthcare.com
Rock Hill, N.Y. – June 12, 2014 – Physicians and staff of Crystal Run Healthcare came together to fundraise for the American Cancer Society's Relay for Life. Funds were raised by employees in a variety of ways including a dress down day as well as raffles. The employees raised a total of $2,282 in donations and raffles to benefit the 2014 Sullivan County Relay held on June 7th at SUNY Sullivan County Community College. Including Crystal Run Healthcare's corporate sponsorship, a grand total of $14,282 was donated to the American Cancer Society for five local Relays including Sullivan County, Goshen, Monroe-Woodbury, Newburgh and Pine Bush. The Funds raised support the American Cancer Society's mission of finding answers that save lives and improve cancer patients' quality of life through research, community education programs, and patient advocacy initiatives.
Crystal Run Healthcare's Managing Partner and CEO, Dr. Hal Teitelbaum, spoke at the opening ceremony of the Sullivan Relay along with Inspirational Speaker, Glorianne Ellison and Grand Marshal, Jeanne Devoe. Staff members from Crystal Run Healthcare were also at the Relay giving away t-shirts and other items as well as selling raffle tickets to various prizes. All proceeds for the raffle ticket sales were donated to the Relay for Life. Crystal Run Healthcare has been a corporate sponsor of the Relay for Life in Sullivan County since 2003.
"Cancer is a disease that has touched so many of our lives which is why Crystal Run supports the American Cancer Society and their Relays for Life. They continue to do great work in cancer research and advocacy helping the fight against cancer. I am very proud of the tremendous support our employees give each year to Relay for Life. Together, we are all helping to celebrate more birthdays," said Hal Teitelbaum, MD, JD, MBA, Managing Partner and CEO of Crystal Run Healthcare.
--- Cutline: Sullivan County Relay for Life Grand Marshal, Jeanne Devoe (right) cuts the ceremonial ribbon to open the Relay on June 7th at Sullivan County Community College.
About Crystal Run Healthcare: Crystal Run Healthcare is a premier multi-specialty group practice, and is among the fastest growing medical practices in the country. Crystal Run Healthcare includes over 300 providers, in over 40 medical specialties with 20 practice locations focusing on the healthcare needs of the mid-Hudson Valley and lower Catskill region. Crystal Run has a strong commitment to primary care, employing an outstanding group of physicians representing the specialties of Internal Medicine, Obstetrics/Gynecology, Family Practice, Geriatrics and Pediatrics. The practice also includes unsurpassed sub-specialists in a wide variety of medical and surgical specialties and sub-specialties. Crystal Run Healthcare offers fully accredited digital radiology and laboratory services and is a national leader in the use and advancement of electronic health records (EHR). Crystal Run Healthcare is accredited by The Joint Commission and is designated by the NCQA as a Level 3 Patient Centered-Medical Home. The practice was among the first 27 health care organizations in the nation to participate as an Accountable Care Organization (ACO) in the Medicare Shared Savings Program (MSSP) effective April 2012. NCQA recognition of Crystal Run as an Early Adopter seeking ACO Accreditation in January 2012 culminated in December 2012 with Crystal Run Healthcare achieving NCQA Level 2 ACO Accreditation, the first such designation in New York. For more information about Crystal Run Healthcare visit www.crystalrunhealthcare.com, and follow us on Twitter, LinkedIn and Facebook or call 845.615.6832.