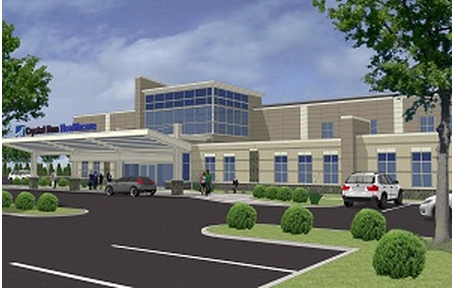 FOR IMMEDIATE RELEASE
For more information, contact: Mark Trocino | 845.615.6832 |
mailto:marketing@crystalrunhealthcare.com
Newburgh, N.Y. – October 21, 2014 –
On Wednesday, October 29, 2014, Crystal Run Healthcare will hold a Groundbreaking Ceremony for their new multi-specialty facility being built in the Town of Newburgh on Route 300. The event will be held from 10am until 12pm and will include remarks from Crystal Run's Managing Partner and CEO,
Hal Teitelbaum MD, JD, MBA
and other dignitaries as well as a ceremonial dirt toss. The address for the event and the new facility is 1200 Route 300, Newburgh, NY (use 167 Old Little Britain Road for GPS). This event is free and open to the public. Lite refreshments will be served and special guest, Woodman from K104's Woodman in the Morning show will also be on site with his wheel of prizes.
With more than 300 exceptional providers and specialists in nearly 50 fields, Crystal Run Healthcare has transformed how a medical practice delivers patient care. Our new 66,000 square foot facility currently under construction on Route 300 in Newburgh is innovatively designed to promote patient safety, functionality, efficiency and service excellence. It's at the cutting-edge of medicine and technology, and will be the region's most innovative medical facility. This completely new model will feature:
More than 20 Specialties
Two-room Endoscopy Suite
Infusion Center
Urgent Care
Diagnostic Testing Services Including:
Clinical Laboratory
Diagnostic Imaging: MRI, CT, X-Ray, Ultrasound & Echocardiography
Women's Imaging: Mammography, Ultrasound, & Bone Density
Guests are encouraged to register online by visiting
CrystalRunHealthcare.com/Newburgh
or by calling 845.703.6342. This is a free event and all members of the community are welcome to join.
--- Cutline: A rendering of the final construction of Crystal Run Healthcare's newest multi-specialty medical facility located at 1200 Route 300, Newburgh, NY.
About Crystal Run Healthcare:
Crystal Run Healthcare is a premier multispecialty group practice with over 300 providers in over 40 medical specialties and more than 20 practice locations in the Hudson Valley and lower Catskill region. Crystal Run has a strong commitment to primary care, employing an outstanding group of physicians in the specialties of Internal Medicine, Obstetrics/Gynecology, Family Practice, Geriatrics and Pediatrics. The practice also includes unsurpassed sub-specialists in a wide variety of medical and surgical specialties and sub-specialties. In addition to accreditation by The Joint Commission, Crystal Run is designated by the National Committee for Quality Assurance (NCQA) as a Level 3 Patient Centered-Medical Home. The practice is among the first 27 health care organizations in the nation to participate as an Accountable Care Organization (ACO) in the Medicare Shared Savings Program (MSSP). Crystal Run Healthcare achieved NCQA Level 2 ACO Accreditation in 2012, becoming the first health care organization to be so designated in New York State and among the first six in the United States. Leveraging its ACO experience, Crystal Run has entered into value-based care/shared savings arrangements with numerous commercial payers and a Medicaid Managed Care organization. As a result, contracts which reward Crystal Run for health outcomes now cover approximately 50 percent of the group's attributed primary care patients. Crystal Run has demonstrated its ability to manage population health, improving quality while simultaneously lowering per capita cost for the patients it serves. Crystal Run Healthcare and Mount Sinai Health System have recently announced the established the Mount Sinai-Crystal Run Alliance for Healthcare Transformation, a groundbreaking partnership in which the participants will share and implement best practices, invest and share financial and intellectual resources, strengthen provider networks, and employ innovative approaches to the creation of health care value—all in furtherance of the "Triple Aim" of Better Care, Better Health, and Lower Cost. For more information about Crystal Run Healthcare visit
www.crystalrunhealthcare.com
, and follow us on
Twitter
,
LinkedIn
and
Facebook
or call 845.703.6999.