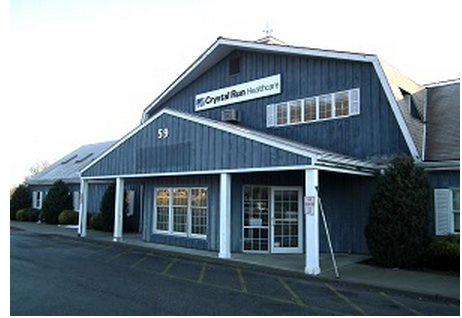 FOR IMMEDIATE RELEASE
For more information, contact: Mark Trocino | 845.615.6832 | mailto:marketing@crystalrunhealthcare.com
Newburgh, N.Y. – January 16, 2014 – On January 22, Crystal Run Healthcare will open its newest multi-specialty medical office and Urgent Care to serve the Newburgh area. Located at 59 Route 32, Suite 100, in New Windsor (Devitt's Medical Center), the 12,600 square foot office will house an Urgent Care that will be open 7 days a week, staffed with Emergency Medicine and Family Medicine physicians as well as certified physician assistants for walk-in treatment of acute medical conditions; as well as medical offices for Primary Care and specialties including Cardiology, Endocrinology, Gastroenterology, Neurology, Orthopedics/Sports Medicine, Otolaryngology, Pulmonary & Critical Care Medicine, and Urology. The Newburgh office can be reached for appointments or inquires at 845.725.0100 and Urgent Care can be reached at 845.725.0111.
All services and specialties will be open to patients on January 22nd and a formal ribbon cutting and grand opening for this new office is scheduled for February 25th. More details on the ribbon cutting will follow.
This new office will serve as a temporary location until Crystal Run Healthcare completes construction on its permanent medical building on Route 300 in Newburgh across from Walmart. Construction of the new 65,000 square foot medical building is tentatively scheduled to begin later in 2014 and be completed in 2015. Additional services and an expanded offering of medical specialties will be offered once the new medical building is completed in Newburgh.
"We are excited to be opening our newest office and Urgent Care to serve the Newburgh community. As part of our ongoing commitment to expanding access to high-quality healthcare, we are happy to offer the residents of Newburgh and the surrounding areas the ease and convenience of Crystal Run Healthcare's comprehensive, coordinated model of care," said Michelle A. Koury, MD, Chief Operating Officer at Crystal Run Healthcare.
--- Cutline: Crystal Run Healthcare's newest medical office and Urgent Care serving the Newburgh area. 59 Route 32, Suite 100, in New Windsor, NY 12553.
About Crystal Run Healthcare: Crystal Run Healthcare is a premier multi-specialty group practice, and is among the fastest growing medical practices in the country. Crystal Run Healthcare includes over 300 providers, in over 40 medical specialties with 16 practice locations focusing on the healthcare needs of the mid-Hudson Valley and lower Catskill region. Crystal Run has a strong commitment to primary care, employing an outstanding group of physicians representing the specialties of Internal Medicine, Obstetrics/Gynecology, Family Practice, Geriatrics and Pediatrics. The practice also includes unsurpassed sub-specialists in a wide variety of medical and surgical specialties and sub-specialties. Crystal Run Healthcare offers fully accredited digital radiology and laboratory services and is a national leader in the use and advancement of electronic health records (EHR). Crystal Run Healthcare is accredited by The Joint Commission and is designated by the NCQA as a Level 3 Patient Centered-Medical Home. The practice was among the first 27 health care organizations in the nation to participate as an Accountable Care Organization (ACO) in the Medicare Shared Savings Program (MSSP) effective April 2012. NCQA recognition of Crystal Run as an Early Adopter seeking ACO Accreditation in January 2012 culminated in December 2012 with Crystal Run Healthcare achieving NCQA Level 2 ACO Accreditation. For more information about Crystal Run Healthcare visit www.crystalrunhealthcare.com, and follow us on Twitter, LinkedIn and Facebook or call 845.615.6832.