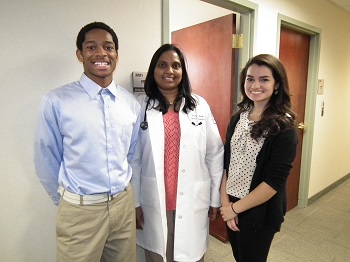 FOR IMMEDIATE RELEASE
Middletown, N.Y. – December 19, 2013 – Throughout the month of December, students from Pine Bush High School's Excelsior Medical Academy will be shadowing Primary Care physicians and staff from Crystal Run Healthcare. The yearlong program focuses predominantly on shadowing and field observation and is made up of six high school seniors who are in the top ten percent of their class who demonstrate a significant desire to enter the healthcare field. The six seniors will shadow a total of fourteen Crystal Run physicians that specialize in Internal Medicine, Family Practice and Geriatrics. Participating physicians from Crystal Run that specialize in Internal Medicine are Dr. Riaz Rahman, Dr. Asama Riaz, Dr. Gregory Spencer, Dr. Liby Mathew, and Dr. Nabil Guindi; Crystal Run physicians specializing in Family Practice include Dr. Sheryl Sulangi-Lorenc, Dr. Shawkat Massih, Dr. Ramzi Tawil, Dr. Nimfa Gabriana, Dr. David Kang, and Dr. Simarjit Singh; and physicians specializing in Geriatrics include Dr. Maria Ranin-Lay, Dr. Noemi Gonzalez-Klayman, and Dr. Mrilini Yeddu. The shadow program is the field study portion of the curriculum and allows students to learn through observing actual physicians in their day to day activates.
Crystal Run Healthcare has long been committed to giving back to the local community as well as supporting youth education. In addition to participating in the Excelsior Medical Academy for Pine Bush High School, providers and staff at Crystal Run have also participated in Pine Bush High School's Summer Medical Academy contributing a total of twenty-two hours of instruction spanning the four weeks of the academy for the past two years. Participating in the Medical Academy and the Excelsior program is a reflection of Crystal Run Healthcare's commitment to the community and the education of its youth.
"Education and giving back to the community is an integral part of everything we do here at Crystal Run. The opportunity to teach and mentor future healthcare professionals is exciting and we hope to inspire the students so they might one day pursue a career in healthcare," said Gregory Spencer, MD, Chief Medical Officer at Crystal Run Healthcare.
--- Cutline: Pine Bush High School's Excelsior Medical Academy students Max Marie (left) and Adriana Rivas (right) pose for a picture with Crystal Run Healthcare's Dr. Mrilini Yeddu (center).
About Crystal Run Healthcare:
Crystal Run Healthcare is a premier multi-specialty group practice, and is among the fastest growing medical practices in the country. Crystal Run Healthcare includes over 300 providers, in over 40 medical specialties with 15 practice locations focusing on the healthcare needs of the mid-Hudson Valley and lower Catskill region. Crystal Run has a strong commitment to primary care, employing an outstanding group of physicians representing the specialties of Internal Medicine, Obstetrics/Gynecology, Family Practice, Geriatrics and Pediatrics. The practice also includes unsurpassed sub-specialists in a wide variety of medical and surgical specialties and sub-specialties. Crystal Run Healthcare offers fully accredited digital radiology and laboratory services and is a national leader in the use and advancement of electronic health records (EHR). Crystal Run Healthcare is accredited by The Joint Commission and is designated by the NCQA as a Level 3 Patient Centered-Medical Home. The practice was among the first 27 health care organizations in the nation to participate as an Accountable Care Organization (ACO) in the Medicare Shared Savings Program (MSSP) effective April 2012. NCQA recognition of Crystal Run as an Early Adopter seeking ACO Accreditation in January 2012 culminated in December 2012 with Crystal Run Healthcare achieving NCQA Level 2 ACO Accreditation. For more information about Crystal Run Healthcare visit
www.crystalrunhealthcare.com
, and follow us on
Twitter
,
LinkedIn
and
Facebook
or call 845.615.6832.