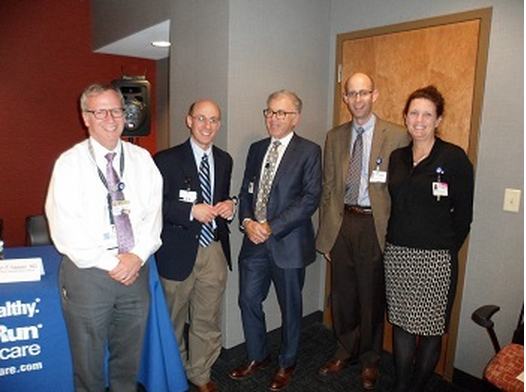 FOR IMMEDIATE RELEASE
For more information, contact: Mark Trocino | 845.615.6832 | mailto:marketing@crystalrunhealthcare.com
Rock Hill, N.Y. – January 22, 2014 – On Thursday, February 13th Crystal Run Healthcare will present a free community health seminar titled Getting Tomorrow's Healthcare Today, at its Rock Hill office located at 61 Emerald Place. The free seminar is open to the public and outlines how to get better health while saving time and money. Topics include: how to be your own healthcare advocate; getting the best value from preventive care; understanding impacts of the Affordable Care Act; and what to look for in a healthcare provider. Presenting the seminar is Crystal Run's Founder, Managing Partner and CEO, Dr. Hal Teitelbaum. Joining Dr. Teitelbaum will be a panel of healthcare experts from Crystal Run including Chief Operating Officer, Dr. Michelle A. Koury, Chief Medical and Chief Medical Information Officer, Dr. Gregory Spencer, as well as Co-Chief Clinical Transformation Officers, Dr. Jonathan Nasser and Dr. Scott Hines.
Free flu shots will be offered and anyone who attends will be given a free gift. Lite refreshments will also be served. Questions from the audience are encouraged and will be answered by Dr. Teitelbaum and the panel. Anyone interested in attending or for more information please visit CrystalRunHealthcare.com/Seminar or call 845-703-6342 to register for the seminar. This is a free seminar and registration is not required, though it is preferred.
--- Cutline: From left to right, Crystal Run Healthcare's Dr. Gregory Spencer, Dr. Scott Hines, Dr. Hal Teitelbaum, Dr. Jonathan Nasser and Dr. Michelle A. Koury participated in Getting Tomorrow's Healthcare Today community health seminar on November 19th.
About Crystal Run Healthcare: Crystal Run Healthcare is a premier multi-specialty group practice, and is among the fastest growing medical practices in the country. Crystal Run Healthcare includes over 300 providers, in over 40 medical specialties with 15 practice locations focusing on the healthcare needs of the mid-Hudson Valley and lower Catskill region. Crystal Run has a strong commitment to primary care, employing an outstanding group of physicians representing the specialties of Internal Medicine, Obstetrics/Gynecology, Family Practice, Geriatrics and Pediatrics. The practice also includes unsurpassed sub-specialists in a wide variety of medical and surgical specialties and sub-specialties. Crystal Run Healthcare offers fully accredited digital radiology and laboratory services and is a national leader in the use and advancement of electronic health records (EHR). Crystal Run Healthcare is accredited by The Joint Commission and is designated by the NCQA as a Level 3 Patient Centered-Medical Home. The practice was among the first 27 health care organizations in the nation to participate as an Accountable Care Organization (ACO) in the Medicare Shared Savings Program (MSSP) effective April 2012. NCQA recognition of Crystal Run as an Early Adopter seeking ACO Accreditation in January 2012 culminated in December 2012 with Crystal Run Healthcare achieving NCQA Level 2 ACO Accreditation. For more information about Crystal Run Healthcare visit www.crystalrunhealthcare.com, and follow us on Twitter, LinkedIn and Facebook or call 845.615.6832.