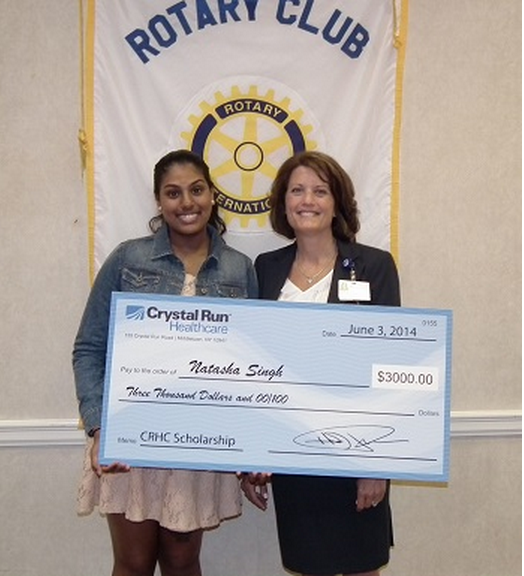 FOR IMMEDIATE RELEASE
For more information, contact: Mark Trocino | 845.615.6832 | mailto:marketing@crystalrunhealthcare.com
Middletown, N.Y. – June 16, 2014 – Crystal Run Healthcare's Chief Operating Officer, Dr. Michelle A. Koury presented Natasha Singh with the 2014 Crystal Run Healthcare Scholarship in the amount of $3,000. Miss Singh was presented the scholarship at the Wallkill East Rotary Club's breakfast on June 3rd. This year marks the tenth consecutive year that Crystal Run has offered their health care scholarship to a local graduating senior. Including this year's scholarship to Miss Singh, Crystal Run has donated a total of over twenty-eight thousand dollars to local high school graduates pursuing their college studies in a health care related field.
Natasha Singh is a 2014 graduate of Pine Bush High School and will attend Long Island University in Brooklyn, NY in the fall where she will major in Nursing. Miss Singh was selected to receive this scholarship based on her desire to pursue a career in health care, her academic performance and her community involvement.
"It was a great pleasure to present Natasha with our scholarship. Natasha has earned this scholarship through her hard work, academic achievements and contributions to her community. We are confident she will succeed and pleased she chose a career in health care," said Michelle A. Koury, MD, Chief Operating Officer at Crystal Run Healthcare.
Crystal Run Healthcare has long been committed to giving back to the local community by supporting youth education through scholarships. With its inception in 2005, Crystal Run donated twenty-eight hundred dollars for their annual healthcare scholarship which is administered by the Wallkill East Rotary Club. In 2010, Crystal Run increased the scholarship to three thousand dollars, where it has remained since.
--- Cutline: Crystal Run Healthcare Scholarship Award winner Natasha Singh (left) accepts her check from Crystal Run Healthcare's Chief Operating Officer Dr. Michelle A. Koury (right) at the Wallkill East Rotary breakfast.
About Crystal Run Healthcare: Crystal Run Healthcare is a premier multi-specialty group practice, and is among the fastest growing medical practices in the country. Crystal Run Healthcare includes over 300 providers, in over 40 medical specialties with 20 practice locations focusing on the healthcare needs of the mid-Hudson Valley and lower Catskill region. Crystal Run has a strong commitment to primary care, employing an outstanding group of physicians representing the specialties of Internal Medicine, Obstetrics/Gynecology, Family Practice, Geriatrics and Pediatrics. The practice also includes unsurpassed sub-specialists in a wide variety of medical and surgical specialties and sub-specialties. Crystal Run Healthcare offers fully accredited digital radiology and laboratory services and is a national leader in the use and advancement of electronic health records (EHR). Crystal Run Healthcare is accredited by The Joint Commission and is designated by the NCQA as a Level 3 Patient Centered-Medical Home. The practice was among the first 27 health care organizations in the nation to participate as an Accountable Care Organization (ACO) in the Medicare Shared Savings Program (MSSP) effective April 2012. NCQA recognition of Crystal Run as an Early Adopter seeking ACO Accreditation in January 2012 culminated in December 2012 with Crystal Run Healthcare achieving NCQA Level 2 ACO Accreditation, the first such designation in New York. For more information about Crystal Run Healthcare visit www.crystalrunhealthcare.com, and follow us on Twitter, LinkedIn and Facebook or call 845.615.6832.