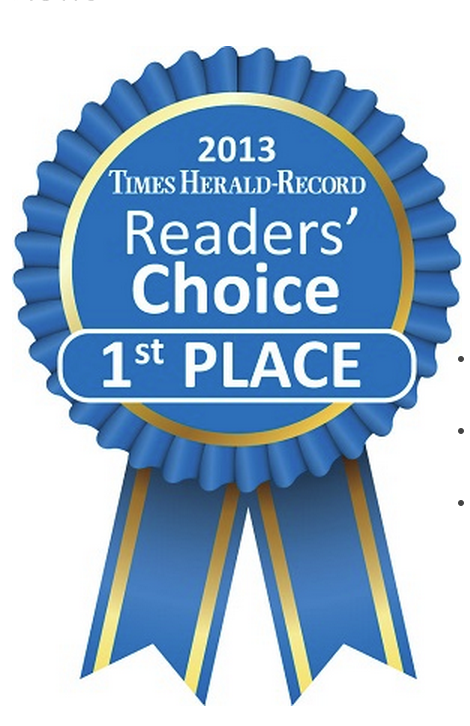 FOR IMMEDIATE RELEASE
For more information, contact: Mark Trocino | 845.615.6832 | mailto:marketing@crystalrunhealthcare.com
Middletown, N.Y. – July 23, 2013 – Crystal Run Healthcare has been voted the "Best Family Practice" and "Best Hearing Aid Center" in the Times Herald-Record's Readers' Choice for 2013. These latest two awards add to Crystal Run's well established list of awards and recognitions from recent years that include:
David T. Cocks Award for Commitment to Community - presented to managing partner and CEO of Crystal Run Healthcare, Dr. Hal Teitelbaum in 2012 by the Community Foundation of Orange and Sullivan.
Women Who Make a Difference in Healthcare Award - presented to Crystal Run's Chief Operating Officer, Dr. Michelle A. Koury in 2012 by SUNY Sullivan Foundation.
Top Docs of the Hudson Valley awards for years 2011-13.
The Readers' Choice poll featured hundreds of local businesses in over 165 categories that readers voted on. More than 10,000 readers voted and Crystal Run Healthcare took top honors in the Health, Beauty and Wellness Services group for "Best Family Practice" and "Best Hearing Aid Center". A special section will be published in the July 31st edition of the Times Herald-Record honoring Crystal Run and the other winners.
Crystal Run has a strong commitment to primary care and remains at the cutting edge of healthcare delivery. In May of this year, Crystal Run Healthcare began to offer same-day primary care appointments in many of its office locations as well as began to offer walk-in patient hours in their Warwick office. The purpose of such enhancements is to improve patient access to Crystal Run's quality care.
In addition to Crystal Run's commitment to primary care, the practice also includes unsurpassed medical and surgical specialties such as Audiology. Audiologists at Crystal Run work with a wide range of patients in rehabilitation (cochlear implants and/or hearing aids), pediatric populations and assessment of the vestibular system.
"Crystal Run Healthcare is extremely happy that our community has voted us the Best Family Practice and Best Hearing Aid Center. We work tirelessly each and every day to ensure we offer the highest level of care in a convenient, patient focused environment. You have choices with your healthcare and we are happy that our community chooses Crystal Run Healthcare," said Michelle A. Koury, MD, Chief Operating Officer at Crystal Run Healthcare.
--- Cutline: First place ribbon given to Crystal Run Healthcare for "Best Family Practice" and "Best Hearing Aid Center" in the Times Herald-Record's Readers' Choice for 2013.
About Crystal Run Healthcare: Crystal Run Healthcare is a premier multi-specialty group practice, and is among the fastest growing medical practices in the country. Crystal Run Healthcare includes over 300 providers, in over 40 medical specialties with 14 practice locations focusing on the healthcare needs of the mid-Hudson Valley and lower Catskill region. Crystal Run has a strong commitment to primary care, employing an outstanding group of physicians representing the specialties of Internal Medicine, Obstetrics/Gynecology, Family Practice, Geriatrics and Pediatrics. The practice also includes unsurpassed sub-specialists in a wide variety of medical and surgical specialties and sub-specialties. Crystal Run Healthcare offers fully accredited digital radiology and laboratory services and is a national leader in the use and advancement of electronic health records (EHR). Crystal Run Healthcare is accredited by The Joint Commission and is designated by the NCQA as a Level 3 Patient Centered-Medical Home. The practice was among the first 27 health care organizations in the nation to participate as an Accountable Care Organization (ACO) in the Medicare Shared Savings Program (MSSP) effective April 2012. NCQA recognition of Crystal Run as an Early Adopter seeking ACO Accreditation in January 2012 culminated in December 2012 with Crystal Run Healthcare achieving NCQA Level 2 ACO Accreditation. For more information about Crystal Run Healthcare visit our website at www.crystalrunhealthcare.com or call 845.615.6832.