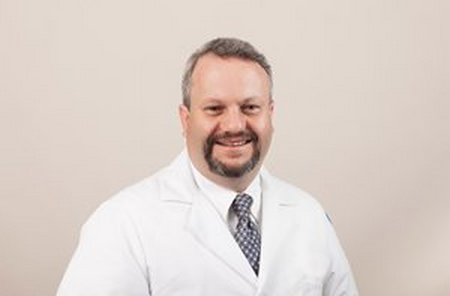 FOR IMMEDIATE RELEASE For more information, contact: Lynn Haskin | 845.703.6342 | mailto:marketing@crystalrunhealthcare.com
Dr. Kevin Trapp Named Medical Honoree for 2014 Hudson Valley Walk to Cure Arthritis
The Hudson Valley Walk to Cure Arthritis, a signature event hosted by the Arthritis Foundation, will take place at Thomas Bull Memorial Park in Montgomery, NY on Saturday, May 3rd. Dr. Kevin Trapp was selected as the 2014 Hudson Valley Walk to Cure Arthritis's Medical Honoree. Dr. Kevin Trapp is a board certified Orthopedic Surgeon specializing in reconstruction from Crystal Run Healthcare. Specifically, Dr. Trapp is the Co-Division Lead for the Orthopedics Department at Crystal Run, and additionally serves as Chairman of the Department of Orthopaedics and Medical Director of The Bone and Joint Center at Orange Regional Medical Center in Middletown, NY. In 2009, Dr. Trapp was selected as an Orange County Rising Star and has been recognized as one of Hudson Valley Magazine's "Top Docs" for the last several years. Having participated in the Walk to Cure Arthritis for a few years, Dr. Trapp is excited to represent the Arthritis Foundation as he serves as this year's Medical Honoree.
Held every May in conjunction with National Arthritis Month, the Walk is an event where thousands of people come together to walk and raise money to help fight arthritis, which affects more than 50 million Americans. The Funds raised support the Arthritis Foundation's mission. The three main areas of focus include medical research, community education programs, and patient advocacy initiatives.
The Hudson Valley Arthritis Walk will feature a three-mile walk (with an optional one-mile route), a Kids' Fun Run, Kids' Fun Zone, the Dog Pen – an expo that offers information on arthritis in pets, music, and refreshments. Local sponsorship opportunities are available, ranging from $1,000 to $10,000. It is expected that more than 500 walkers will participate in the Hudson Valley Walk to Cure Arthritis.
To learn more about the Hudson Valley Walk to Cure Arthritis, become a sponsor or to register to participate in the Walk, visit www.walktocurearthritis.hv.kintera.org or call 212-984-8702.
PHOTOS:
Medical Honoree: Dr. Kevin Trapp of Crystal Run Healthcare
CONTACT: Dana Miele, Manager of Community Development
Arthritis Foundation – NY Chapter
122 East 42nd Street – 18th Floor
New York, NY 10168
212-984-8702 – dmiele@arthritis.org