You are here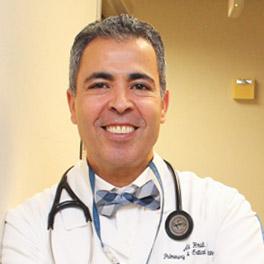 Overall Rating of Provider
---
General Info
Medical School/Degree: Albert Saint-Gyorgy
Hospital Affiliations: Garnet Health Medical Center (ORMC), Garnet Health Medical Center – Catskills (CRMC), St. Anthony Community Hospital
Residency: Internal Medicine, The Brooklyn Hospital Center, Brooklyn, NY
Internship: Internal Medicine, The Brooklyn Hospital Center, Brooklyn, NY
Clinical Interests:
Along with the wide variety of pulmonary and critical diseases, I am especially interested in the understanding of the pathomechanisms and treatment innovation of sepsis/septic shock, pulmonary hypertension, and Idiopathic pulmonary fibrosis.
Year Joined: 2005
---
About Me
What made you want to become a health care provider or what is your earliest memory of wanting to be one?
Every one of us contributes to mankind one way or the other, I always believed and wanted to contribute to mankind in a direct fashion, and the best way to do that was through patient care. The first I thought of becoming a doctor was when I was in the hospital visiting my grandfather.
What do you love most about your specialty? / Why did you choose your specialty?
What I love most about my specialty is the fact that I can see immediate results when treating patients and that is a satisfying and gratifying feeling. Not being able to breathe is a terrible feeling. I chose my specialty to be able to alleviate that feeling.
How do you connect with your patients?
Listening, sympathizing, empathizing, and always providing the patient with the care and attention as if She/He is a family member.
What are your interests outside of the office (hobbies, activities)?
Running, biking, traveling, and most of all playing with my kids.
What is your advice for your patients?
That the cup is always half full.
---