You are here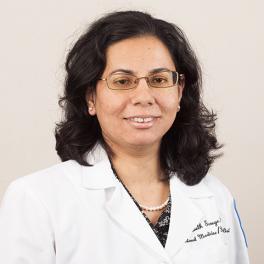 Elizabeth George MD
Specialties: Hospital Medicine
Board Certified: Internal Medicine
Languages: English
Overall Rating of Provider
---
General Info
Medical School/Degree: Thrissur Medical College
Hospital Affiliations: St. Anthony Community Hospital and Garnet Health Medical Center (ORMC)
Residency: Internal Medicine, NY Methodist Hospital, Brooklyn, NY
Internship: Internal Medicine, NY Methodist Hospital, Brooklyn, NY
Year Joined: 2008
---
About Me
What made you want to become a health care provider or what is your earliest memory of wanting to be one?
When I was in high school one of our neighbors got injured. My eldest sister who was in Medical school at that time, was able to handle it appropriately. This event helped me to choose this profession by seeing how much a doctor can do in society.
What do you love most about your specialty? / Why did you choose your specialty?
I can help people when they need a doctor's help the most , while they are in the hospital. I also get satisfaction once they feel better and are discharged.
How do you connect with your patients?
By emails or phone calls.
What are your interests outside of the office (hobbies, activities)?
Reading
What is your advice for your patients?
To watch their diet and to take medications as instructed.
---