You are here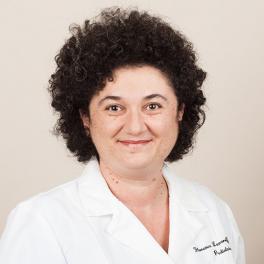 Overall Rating of Provider
---
General Info
Medical School/Degree: MD, Saint Petersburg State Pediatric Medical Academy, Saint Petersburg, Russia
Hospital Affiliations: Garnet Health Medical Center – Catskills (CRMC)
Residency: Pediatrics, Edward W. Sparrow Hospital, Lansing, MI
Internship: Pediatrics, Michigan State University, Lansing, MI
Clinical Interests:
I am interested in promoting healthy nutrition from infancy to adulthood.
Year Joined: 2008
---
About Me
What made you want to become a health care provider or what is your earliest memory of wanting to be one?
My father was a physician. He was very passionate and caring and that was a natural drive for me to become a doctor.
What do you love most about your specialty? / Why did you choose your specialty?
I love children and that was the reason I had chosen the Pediatric Medical School in St. Petersburg. I cannot envision myself in any other specialty.
How do you connect with your patients?
I try to step down to my little patient's level of thinking so they can understand my advice and comply with it. Also, I try to involve both children and parents together in the plan of the treatment and/or discussions of anticipatory guidance.
What are your interests outside of the office (hobbies, activities)?
I am trying to spend as much time as my professional obligations allow with my daughter, Sylvia. We both enjoy going to the opera, ballet, visiting museums, etc.
What is your advice for your patients?
To be responsible and loving towards their parents and to enjoy childhood adventures and cherish their friendships.
---