You are here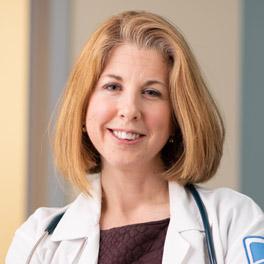 Overall Rating of Provider
---
General Info
Medical School/Degree: SUNY Health Science Center at Brooklyn
Hospital Affiliations: Garnet Health Medical Center (ORMC), St. Anthony Community Hospital
Residency: Overlook Family Practice Residency Program, Summit, NJ
Internship: Overlook Family Practice Residency Program, Summit, NJ
Undergraduate: Cornell University
Clinical Interests:
Women's health, including pediatric and adolescents; geriatrics
Year Joined: 2003
---
About Me
What made you want to become a health care provider or what is your earliest memory of wanting to be one?
I have always been interested in science, particularly biology, since I was a young girl. I was comfortable in the medical setting as my father was an internist. My initial interest was actually in Veterinary Medicine (being a great animal lover!) However, after doing some internships in veterinary medicine while studying at Cornell, and thinking about the personal satisfaction that I gained through volunteer work at community centers and nursing homes, I decided that I could not pass up on the human element, and changed my major to pre-med.
What do you love most about your specialty? / Why did you choose your specialty?
I love family medicine and have always been happy with my choice. It embodies all the elements of medical practice that I enjoy---it allows variety, but encompasses the most common and the most important chronic conditions, allows me to see patients of all ages, and for me it is a way of preserving the old-fashioned trusting doctor-patient relationship, in the context of the new evidence based medicine. It is the perfect specialty to serve as a medical home for both young and old. I have thoroughly enjoyed and been touched by being present in my patients' lives in all stages, from birth of a new baby to the passing of a great-great grandmother with family all around them. Family medicine allows me to focus on two areas of medicine that are important to me--women's health and geriatrics as the growth of our elderly population is increasing and hopefully will continue to as we live healthier lives. For me, family medicine just makes sense.
How do you connect with your patients?
Living in the community in which I work means an automatic basis for connections of all kinds, having children who attend the same schools as my patients do, religious community, and enjoying what the larger community of the Hudson Valley has to offer, especially the outdoors. Getting to know my patients on a personal level, is important to me, and I think impacts greatly on their health. Lifestyle factors are some of the most important influences on our health and one cannot truly understand or modify lifestyle without knowing where the patient lives, works, what their stressors are and something about the family in which they live. Exploring these details always leads to some sense of shared purpose and brings to light connections that cross the traditional age and demographic boundaries.
What are your interests outside of the office (hobbies, activities)?
I love the outdoors, and wildlife--so enjoy hikes/walks in Harriman State Park, swimming, and spending time with my husband, children and multiple pets. I like to take my children to the ocean, the many lakes around our community, as well as Bear Mountain.
What is your advice for your patients?
Enjoy life, but do so in moderation, try to keep healthy habits -Build and sustain strong connections with family and friends above everything, these connections are ultimately important in keeping us feeling good and living full lives -Do not forget
---