You are here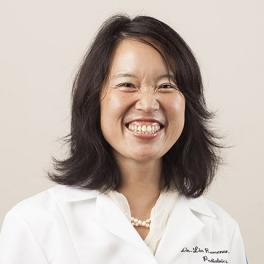 Lin-Lin Y. Remenar MD, FAAP
Specialties: Primary Care, Pediatrics
Board Certified: Pediatrics
Languages: English, Mandarin
Overall Rating of Provider
---
General Info
Medical School/Degree: MD, Penn State Milton S. Hershey Medical Center, Hershey, PA
Hospital Affiliations: Garnet Health Medical Center (ORMC)
Prior Experience: Dr Eduardo Bravo Practice, Montgomery Village, MD
Residency: Pediatrics, Children's Memorial Hospital, Chicago, IL
Internship: Pediatrics, Children's Memorial Hospital, Chicago, IL
Undergraduate: University of Illinois
Clinical Interests:
Preventive care
Year Joined: 2009
---
About Me
What made you want to become a health care provider or what is your earliest memory of wanting to be one?
At the ripe age of 6, I remember saying I want to be a doctor. Whether it was the fun tools I couldn't get enough of in my Fisher Price doctor's kit or the cool white coat that I got to wear, something drew me to the field of medicine very early on in my life. As I contemplated careers from an English professor to an Ecologist to a ski instructor, I always came back to my joy of learning science in the context of helping people. Amazing how I knew more at the age of 6 than 20.
What do you love most about your specialty? / Why did you choose your specialty?
The kids of course! I find it very rewarding and a privilege to help with teaching kids how to keep their bodies healthy and their brains smart. This is a phrase my patients and my kids are very familiar in hearing me say so that I can encourage them to incorporate these ideas into their lives.
How do you connect with your patients?
Listening to my patients and their parents and getting my wonderful hugs.
What are your interests outside of the office (hobbies, activities)?
I love spending time with my kids and husband outdoors. We love swimming, hiking, skiing and jumping in water puddles. For myself, I love reading, running, cooking and trying new foods from all over the world.
What is your advice for your patients?
As I mentioned before if kids work on keeping their bodies healthy and brains smart, they will go far in life!!
---