You are here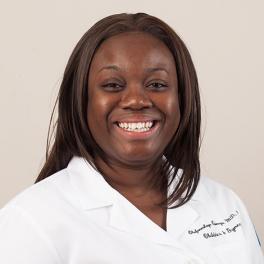 Olufunmilayo Odunuga MD, MPH, FACOG
Specialties: Obstetrics & Gynecology
Board Certified: Obstetrics & Gynecology
Languages: English
Overall Rating of Provider
---
General Info
Medical School/Degree: SUNY at Buffalo
Hospital Affiliations: Montefiore Nyack Hospital
Residency: Obstetrics & Gynecology, Strong Memorial Hospital, Rochester, NY
Internship: Obstetrics & Gynecology, Strong Memorial Hospital, Rochester, NY
Undergraduate: University of Rochester
Clinical Interests:
Public Health; Polycystic Ovarian Syndrome and Minimally Invasive Surgery
Year Joined: 2010
---
About Me
What made you want to become a health care provider or what is your earliest memory of wanting to be one?
My earliest memory of wanting to become a doctor was as a teenager when my aunt or uncle gave me the responsibility to babysit their children. During this time, I would not only bathe or cook for them, I also taught them math, science and ways to improve their health. Through these experiences I knew I wanted to teach and empower a population of people on ways to prevent diseases and improve their health.
What do you love most about your specialty? / Why did you choose your specialty?
Obstetrics and Gynecology is a great specialty because I have the opportunity to care for women of all ages. The care I provide comes in different shapes and sizes: offering preventive gynecologic care, guiding an expectant mother through 40 weeks of pregnancy and her delivery, surgically treating both acute or chronic gynecological conditions. This diverse specialty allows for continuity and the ability to grow with the patients.
How do you connect with your patients?
I connect with my patients by understanding what is important to her and makes her who she is today. I try to connect by learning about her interests, what she does for a living and her family. These few things can sometimes make a huge difference in the health outcomes of a patient when you are involved in their care.
What are your interests outside of the office (hobbies, activities)?
In my spare time I love to travel, spend time with my family and friends and attend Zumba classes at Studio AYO.
What is your advice for your patients?
At the end of the visit, I try to make sure my patient understands it is very important for her to take care of herself first before caring for others. If she is strong, then she will be strong to care for others who need her most.
---