You are here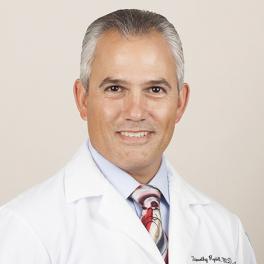 Timothy Rydell MD, FACOG
Specialties: Obstetrics & Gynecology
Board Certified: Obstetrics & Gynecology
Languages: English
Overall Rating of Provider
---
General Info
Medical School/Degree: New York Medical College
Hospital Affiliations: Garnet Health Medical Center (ORMC), Garnet Health Medical Center - Catskills (CRMC)
Prior Experience: 1st Medical Group , Shaw AFB, SC
Residency: Obstetrics & Gynecology, Keesler Air Force Medical Center, Biloxi, MS
Internship: Obstetrics & Gynecology, Keesler Air Force Medical Center, Biloxi, MS
Undergraduate: Keuka College
Clinical Interests:
Infertility treatment, Uro-gynecology, Pelvic support surgery, Laparoscopy
Year Joined: 2002
---
About Me
What made you want to become a health care provider or what is your earliest memory of wanting to be one?
I chose to become a doctor in order to combine my love of science with a strong desire to help people. This combination came together for me while I was studying Biologic Psychology as an undergraduate student.
What do you love most about your specialty? / Why did you choose your specialty?
Practicing Ob/Gyn provides the opportunity to develop long-term relationships with patients and in many cases, their families. This benefit is coupled with taking part in the wonderful experience of childbirth, as well as the satisfaction of solving patient problems through gynecologic surgery.
How do you connect with your patients?
Through careful listening to the patient's account of her symptoms, stories or updates regarding her family. This then allows for a better understanding of the patient as a whole and the development of a good doctor/patient rapport.
What are your interests outside of the office (hobbies, activities)?
Camping, Skiing, Attending whatever sporting event my kids are playing.
What is your advice for your patients?
The most common advice I give is regarding the value of preventive measures, such as important dietary supplements, life style changes and regular screening tests.
---