You are here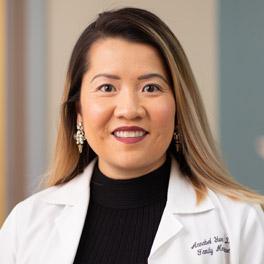 Overall Rating of Provider
---
General Info
Medical School/Degree: DO - Midwestern University-College of Osteopathic Medicine, Downers Grove, IL
Prior Experience: Attending Family Physician - Porter Physician Group, Chesterton, IN
Residency: Family Practice - Resurrection Medical Center, Chicago, IL
Internship: Family Practice - Resurrection Medical Center, Chicago, IL
Undergraduate: B.S. Biology & Phycology - Syracuse University, Syracuse, NY
Clinical Interests:
Women's health, adult medicine and psychiatry.
Year Joined: 2016
---
About Me
What made you want to become a health care provider or what is your earliest memory of wanting to be one?
My earliest memory of wanting to be a physician started off as a summer volunteer at NYU Downtown Hospital which is now known as Lower Manhattan Hospital. I was a young teen at that time and was intrigued by patient care and patient-physician interaction. I worked at the Maternity/Baby Unit for 3 consecutive summers and was invited to see a cesarean section by an inspirational attending at the age of 14. Since then, I've worked diligently in paving a road towards medicine and establishing a meaningful career.
What do you love most about your specialty? / Why did you choose your specialty?
I enjoy working with the diverse population within family medicine. Primary providers as I have learned through the years wear many different hats. We are healers, educators, trainers, providers and family. I realize it takes a special person to succeed in Primary Care. I enjoy especially the continuity of care that comes with Primary Care. One of the biggest rewards is seeing the improvement patients with chronic diseases (hypertension, diabetes, lipid disorders) make for themselves with simple diet and exercise.
How do you connect with your patients?
I believe that I am able to connect with my patients on a very professional and personal level through mutual respect and interest in providing great care to them. I share inspirational stories as a provider to motivate my patients in reaching their goals of disease prevention and maintaining a life of longevity and quality. Often times, patients comment that I am very approachable and easy to converse with which makes our encounter much more enjoyable and productive.
What are your interests outside of the office (hobbies, activities)?
I enjoy spending time with my family such as taking my niece and nephew to the parks, movies and events around New York City. I also enjoy trying different restaurants and my favorite downtime with friends is brunching. When schedule permits, my goal each year is to travel once internationally. This summer I planned on visiting Hong Kong and Beijing to visit the Great Wall. I also enjoy photography immensely. I have been involved in various projects such as baby shower and engagements. It is a great creative outlet.
What is your advice for your patients?
To stay positive! Having a healthy mental wellness plays a huge role in healing. With a positive attitude, patients tend to heal faster I've learned. I work in partnering with my patients in leading a healthy life as a Primary Care provider.
---