You are here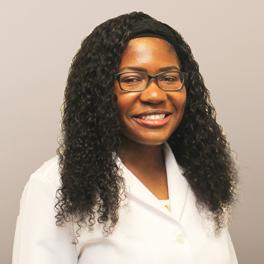 Christina Florival MD
Specialties: Neurology
Board Certified: Neurology
Languages: English
---
General Info
Medical School/Degree: MD, Howard University College of Medicine, Washington, DC
Hospital Affiliations: Montefiore St. Luke's Cornwall
Residency: Neurology, Albany Medical Center, Albany, NY
Internship: Internal Medicine, Albany Medical Center, Albany, NY
Undergraduate: Bachelor of Science in Biology, Molloy College, Rockville Centre, NY
Clinical Interests:
General Neurology, including Headache, Epilepsy, Demyelinating Disorders, Neuropathies, and Cognitive Disorders.
Year Joined: 2021
---
About Me
What made you want to become a health care provider or what is your earliest memory of wanting to be one?
I recall slowly gravitating toward a career in medicine after first being fascinated by the field of biology and realizing how much of a role it played in improving and maintaining one's health.
What do you love most about your specialty? / Why did you choose your specialty?
After learning how vast, complex, and fascinating the central and peripheral nervous system is, while witnessing firsthand in family members and patients how a neurological disorder can greatly impact one's quality of life, I chose to join a field in which I could hopefully play a role in not only improving patient outcomes, but in improving their quality of life as well.
How do you connect with your patients?
By listening closely and intently to all of their concerns and finding a common ground.
What are your interests outside of the office (hobbies, activities)?
Hiking, traveling to countries with amazing hiking destinations, fitness, trying new cuisines, and virtual reality gaming.
What is your advice for your patients?
When possible, find innovative ways to maintain a healthy physical and emotional state.
---