You are here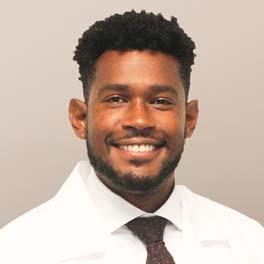 Dimitri M. Vital-Herne MD
Specialties: Hospital Medicine
Languages: English, Spanish, French, Haitian-Creole
---
General Info
Medical School/Degree: MD, American University of the Caribbean, St. Maarten
Hospital Affiliations: Montefiore St. Luke's Cornwall
Residency: Internal Medicine, SUNY Downstate, Brooklyn, NY
Internship: General Surgery, Waterbury Hospital, Waterbury, CT
Undergraduate: Bachelor of Science, SUNY Stony Brook University, Stony Brook, NY
Clinical Interests:
Hospital medicine, integrative medicine, heart failure
Year Joined: 2021
---
About Me
What made you want to become a health care provider or what is your earliest memory of wanting to be one?
I've always wanted to help people. As a child, I would give my aunt and grandmother massages whenever they experienced joint or back pain. I also wanted to emulate my father, who himself, was a physician. As I grew older, I became immersed in the math and science subjects, which ultimately led to my pursuit of medicine. I am glad I made the choice that I made.
What do you love most about your specialty? / Why did you choose your specialty?
Hospital medicine allows me to provide help to people when they often need it the most and that brings me great joy.
How do you connect with your patients?
Establishing a good connection with our patients is probably one of the most powerful tools we have as physicians. I strive to establish that rapport by listening to their stories and ensuring that they understand that we form a partnership for the betterment of their condition.
What are your interests outside of the office (hobbies, activities)?
I love reading books and watching documentaries about ancient civilizations. If I wasn't a physician, I'd most likely find myself exploring archeology. I love socializing with friends and family or catching a good TV show with my wife in the evenings. I enjoy traveling and discovering new places. I also love going to the beach.
What is your advice for your patients?
Your body has its own way of telling you when all is well or if something is wrong. Trust that feeling and act in consequence.
---